We all have little, hidden talents that we don't really take advantage of but let me tell you, there are so many awesome projects you can do that will unleash these talents and before you know it you have a new hobby! Whenever I have the spare time if I'm not working on my studies or traveling around the country, I love getting into crafts that I can personalize and make it something special! I found that I have released so many talents that I have actually been able to use later on as a secret weapon that it makes life so exciting to live! Here we go!
Painted Ikat Art!
Now those of you who wish you could paint like those famous artists, you absolutely can! You can totally be your own Picasso with Ikat Painting. It is so much fun to paint and the best part is that you can create it in your own way!
All you need for this project are some supplies that you can get at your local art store such as Michaels.
canvas (any size you want!)
acrylic paint
paint brush
Now with Ikat in particular, you don't have to use the painting shown above. There are dozens of different designs you can do. Let's take this one for example;
Now, this painting is all about layering, so it's done in about 4-5 different stages. What you want to do first for your design is you want to take a pencil and lightly sketch in the design your heart desires on your canvas. Don't be afraid to really get in with the designs because the more designs you create, the more definition your painting will have.
Using the painting above, you see that the white stands out the most. You want to leave this part for first and I'll tell you why. As this painting is all about layering, adding the white will add as an outline but also make the layering colors stand out more with a watercolor effect to it. Almost like how Claude Monet did his paintings!
Keep in mind, you want the colors to layer together not blend. It is best to add some time in between painting so that the applied colors have time to dry before you add more to your canvas. Be patient as I know this can be difficult when you get really into your creative mode.
There are no real directions to this painting, it's more so just going where your creative heart takes you. Like I said, there are dozens of different designs you can do to customize your own painting which makes this DIY project awesome because it is all on your own, in your own way and your masterpiece!
2. Silverware Ring 
Yes, you read that right, you can make jewelry out of silverware such as forks and spoons and they are beautiful!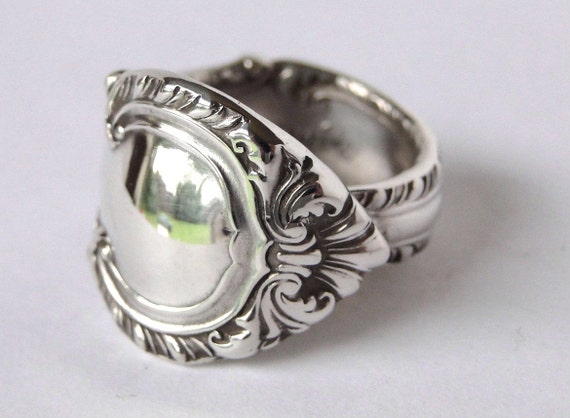 This is a simple project you can do and a great way to get rid of silverware you don't need or use anymore or just as a fun project that you've always wanted to try!
What You Will Need:
Spoon (or fork) of your choosing *Note: Make SURE it is sterling silver
Metal cutter, hacksaw, or jewelry saw
File or sandpaper
Dowel or ring mandrel
Paper
Pen
Step 1: The first thing you are going to want to do is to decide what type of ring you want to create. You can either make one that wraps up your finger, or you can make one that wraps around itself.  Keep in mind that the one you choose determines the length of the handle. It is best to choose one that is longer for the one that wraps up your finger.
Step 2: You now have to pick out your silverware of choice.  To find silverware, you can take a trip to a local thrift store and they usually sell them for about 25 cents each.  When you do go buy your silverware, make sure it is sterling silver and not stainless steel. This is usually noted on the back of the spoon. *Using stainless steel will not work out as well as sterling silver will!!* If you don't know if the silverware is sterling silver or not, turn it over and read the back. It is usually in small print and will say either "900" or "925" on it.
Step 3: 
The next thing to do is measure your finger. There is an easy way to do this, simply cut a strip of paper, wrapping it around your finger, and marking where it overlaps.  If you are making a ring that wraps around your finger, add an extra 1/4 in or so for the overlap.  If you are making a ring that wraps around itself, this step isn't as crucial because you will just continue wrapping it until you've used all of the handle portion of your silverware.
 This is a ring that is styled so that it overlaps.
 This one wraps into itself like a normal ring.
Step 4:
For this next step, your saw or metal cutter comes into play.  If you are making the 1st ring pictured above, cut the handle right above the bowl.  For the ring in the 2nd picture, cut the handle at whatever length you measured in the previous step.
Step 5:
File the cut end with either a metal file or a coarse grit sandpaper.  If using sandpaper, Work your way down so that you get a super-smooth finish.
Step 6:  
Now here is the fun part…. bending the spoon. Don't worry, There are several ways to accomplish this. You can bend it around the dowel using shear force, you can hammer it around the dowel. As a last resort, you can use a butane torch to heat it up before you bend it. Usually, butane torches go for $7 at Home Depot or Lowe's. If you're lucky and get the right kind of sterling silver silverware, you may be able to hit its sweet spot and bend it with just your hands.
If you decide to use a hammer, consider wrapping some sort of cloth around the head of the hammer and securing it in place with a rubber band.  This will help to protect the metal from any scratches.
If you torch it, you'll have to heat it up for awhile, but please make sure you don't let it start glowing orange! We don't want that.
 This butane torch is literally the size of a pencil so using this while making the jewlery will be great as it is easy to use and hold!
Step 7:
As the final step, you can use some silver polish to shine it up the ring for a clean finish!
 Before and After!
3. Faux Mercury Glass
This is a gorgeous house decor idea that is so fun to make and is one of a kind!
Here is what you'll need!
Glass votive or vase
Spray bottle filled with water
Krylon Looking Glass Mirror-Like spray paint
Newspaper or paper plate
Step 1: Make sure glass is clean. Wash+Dry and then spray inside of glass with water.
Step 2: While still wet, lightly spray inside of glass with mirrorlike spray paint. Holding onto the outside of the glass, swirl the paint around the inside until the entire interior is coated.
Step 3:
Place glass upside down on newspaper or a paper plate and let dry. Repeat this process with the water and paint four to five times or until you are satisfied with the effect.
Step 4:
Before
 After!
Thank you for reading! I hope you all enjoyed this post, there is more DIY ideas and crafts to come soon so if you enjoyed this post I am sure you will enjoy the next one too! Don't be afraid to unleash your creative side, you never know what gorgeous things you are capable of making.